Research assistant wanted for low back pain research
Want to gain quality experience in research? If yes, apply for this research assistant position for a study that is looking to explore a feasibility of a clinical trial evaluating effectiveness of pain education on patients with low back pain.
Job location: Maharajgunj, Kathmandu, Nepal
Type: Full time
Job duration: February 7 – May 6, 2018 (end date is subject to change)
Job position: Research assistant
Salary: 24K NRS per month
I am seeking for a full time research assistant to work with me in research for the duration mentioned above in a study on low back pain. If you are motivated to learn and do research and meet the following criteria, please apply.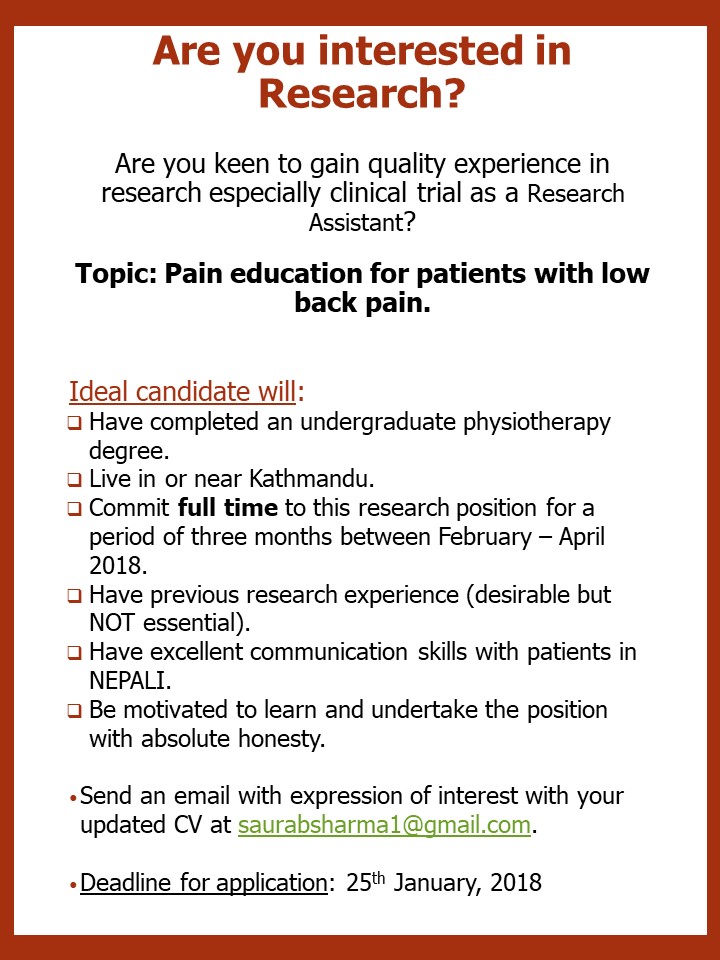 In this job position, you will:
1. Invite patients with low back pain visiting a physiotherapy facility in Kathmandu.
2. Screen the participants for inclusion in the study.
3. Obtain informed consent.
4. Recruit the participants.
5. Collect data at two time points: baseline and post-treatment at one week follow-up.
6. Maintain documentation of the research data.
7. Enter data into Excel/ SPSS.
8. Follow high research ethics, and have an excellent working and learning environment.
9. Communicate effectively with the research team both verbally and via emails.
Strong communication skills in Nepali is an absolute requirement; and excellent skills in communicating via emails is a necessary skill.
Whom will you work with?
You will work with Saurab Sharma, who is a PhD candidate at Dunedin School of Medicine, University of Otago, New Zealand, and Assistant Professor at Kathmandu University School of Medical Sciences, Dhulikhel.
How to apply?
Please send an expression of interest with your updated CV via email at saurabsharma1@gmail.com. Please note that:
1. Emails without subject headings will not be read.
2. In the email, clarify that you meet all the requirements mentioned above.
3. Expression of interest over social media or website will not be considered.
Selection of the candidate will be made based on:
1. Based on communication skills of the applicant
2. Expression of interest over the email
3. Residential location of the applicant closer to the work site
Wish you good luck.
Thanks,
Saurab
Please follow and like us: